8th May 2019
Lamont Author Night
Robert Newton - George Ivanoff -
Ingrid Laguna
On Wednesday afternoon we had an enthusiastic crowd for our first Author visit of the year. It was fantastic to hear such engaging speakers.
| | |
| --- | --- |
| | |
| Ingrid Laguna | George, Ingrid & Robert signing books |
| | |
| Robert Newton | George Ivanoff |
---
13th November 2018
CBCA - Night Of Our Stars
| | |
| --- | --- |
|   |   |
| Adam Wallace | Alison Goodman |
| | |
| Alex Miles | Group |
| | |
| Carole Wilkinson | Dee White |
| | |
| George Ivanoff | Group Again |
| | |
| Judith Rossell | Adam Wallace |
| | |
| Michael Wagner | Serena Geddes |
| | |
| Simmone Howell & Fiona Wood | Katrina Lehman |
---
29th August 2018
LAMONT AUTHOR VISIT
Wednesday afternoon we had our very first Author Night at out wonderful new premises, with a fantastic turnout and a wonderfully talented group of authors and illustrators who all had enlightening tales to share.
| | |
| --- | --- |
| | |
| Paul introducing our wonderful speakers | Mark Wilson with his new book Toobruk |
| | |
| Illustrator Heath McKenzie using technology to draw | Heath on how he constructs Illustrations |
| | |
| Heath with a finished product...of sorts | Gabrielle Wang - Image explains it all |
| | |
| Felice Arena | Felice telling us the story of being bumped for Harry Potter |
---
16th May 2018
LAMONT AUTHOR VISIT
Wednesday night saw us host another fantastic author visit with yet another great turn out by local teachers and librarians.
We had the pleasure of three very talented authors who gave up their time to speak to the eager audience.
Madeleine West spoke about her excitng new Lily D series, the first book which featured on our Standing Order list for May.
Scott Gardner gave us a fabulous insight into his forthcoming secondary fiction novel "Changing Gear" which will feature on our June Standing Order selection.
The multi talent author and illustrator Jane Godwin spoke to us about "Go Go and the Silver Shoes" as well as "The Silver Sea" both which featured on our March Primary Fiction selection of our Standing Order. She also spoke about the fun filled "Red House, Blue House, Green House, Tree House" whioch featured in our May Early Childhood selection.
We thank all three authors for their generous time. 
| | |
| --- | --- |
| | |
| Madeleine West speaking about Lily D | Jane Godwin |
| | |
| Scott Gardner with Paul listening on | Our little visitor a baby Wombat also came along |
---
5th March 2018
INKY Awards Long List announced for the INKY YA Book of the Year.
Paper Cranes Don't Fly by Peter Vu
"I am thrilled to review the first book that I have ever had a hand in getting to print. This book was brought by my attention by one of our long term staff, Don Schepis. The novel was written by a friend of his son, and when I was first presented with it, my initial reaction was 'here we go again'. Being in the job that we are, everybody seems to have or know of a book that "must" be published that we need to read and, to be honest, we are not publishers."
In short, I read the manuscript of this book and I loved it. So we committed to buying it for our Standing Order, and convinced Paul Collins, from Ford Street Publishing, to publish it. The rest, as they say, is history.
(Rob - Lamont Standing Order - August 2017)
We are thrilled with the success of this novel. Peter is fully deserving of the accolades he is now receiving.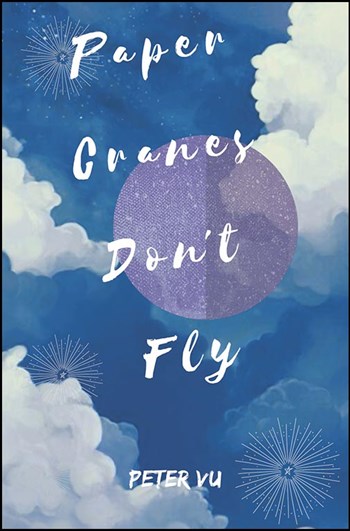 ---
30th August 2017
LAMONT AUTHOR VISIT
We had the immense pleasure of hosting thre fantastic children's authors at Lamont on Wednesday evening.
Morris Gleitzman was here to speak about all things Felix with the release of his latest book 'Maybe'.
We also had the wonderfully multi-talented Fiona Harris telling us all about the evolution of Mooperland and her exciting new 'Super Mooper' series.
We also had the pleasure of the truely delightful Carole Wilkinson here to give us a back ground of her life story of sorts discussing her new book 'Ten Pound Pom'
Thank you all who attended and we look forward to seeing you all again at our next author evening.
Below are a couple of snaps from the evening.
| | |
| --- | --- |
| | |
| Fiona Harris with her captive audience | Rob listening to Carole Wilkinson's wonderful story |
| | |
| Morris Gleitzman discussing all things Felix | Morris with the 'Lamont' (DeKoning) family |
| | |
| Fiona with the 'Lamont' (DeKoning) family | Carole with the 'Lamont' (DeKoning) family |
---
16th August 2017
Leading into the 2017 Book Week, I have found some Book Trailers of some of the 2017 CBCA Shortlisted Books for your enjoyment.
Captain Jimmy Cook Discovers Third Grade by Kate Temple & Jol Temple
Gary by Leila Rudge
One Photo by Liz Anelli (Text by Ross Watkins)
Mechanica by Lance Balchin
18th May 2017
LAMONT AUTHOR VISIT
Last night we had three wonderful authors visit us here at Lamont along with over 60 local, and not so local, teachers and librarians who came along to enjoy their stories. It was a wonderful evening and all three authors spoke wondefully in their own unique, special way portraying their love for books and writing for all to enjoy.
Below are a couple of snaps from the evening.
Paul introducing the speakers to the auidence

 

Skye, Michael and Paul

 

Paul, Skye, Michael, Paul and Rob

 

Some of the over 60 Teachers and Librarians listen on

 
---
14th February 2017
Nami Island
Children's International Picture Book Awards
South Korea
Maree Coote has also been honoured with a DISTINCTION in the Nami Island Children's International Picture Book Awards for her wonderful title Alphabet City Zoo - Making Pictures With The ABC.
A big congratulations to Maree on this fantastic award and acknowledgment of her underlying talent as a Children's author.
---
Bologna Ragazzi Award
Maree Coote, author of Andy Webb - Artist, which has appeared as part of our February Standing Order Picture Story catagory, has just been honoured with a SPECIAL COMMENDATION in the 2017 Bologna Ragazzi Children's International Picture Book Awards in Bologna, Italy for her recent publication Spellbound - Making Pictures With The ABC.
A big congratulations to Maree on this award.
---
28th October 2016
Guardian children's fiction prize 2016 shortlist announced
A big congratulations to Zana Fraillon in being shortlisted for the prestigious Guardinan childrens fiction prize for 2016. We had the pleasure of hosting Zana in our office for a group of very lucky school librarians early this year. Hearing her speak and discuss the writing of The Bone Sparrow was truely enlightening and was enjoyed by everyone.
The Bone Sparrow is a real favourite of all of us here at Lamont.
---
6th September 2016
BECOMING AURORA 
by Elizabeth Kasmer
This title appeared in our Secondary Fiction catagory in our September Standing Order release.
The first young adult work to win the Queensland Literary Awards Best Emerging Author prize since it was established in 1999.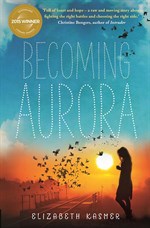 PRAISE FOR BECOMING AURORA
'A sophisticated and compelling exploration of race and identity in Australia and the important decisions teenagers must make in the face of peer pressure, but it always honours storytelling over the weighty themes it handles.' Judges' comments, Queensland Literary Awards
'Elizabeth Kasmer's lyrical prose and realistic depiction of lost teenagers in regional Queensland drew me, almost unwillingly, into Rory's story. Becoming Aurora is full of heart and hope – a raw and moving story about fighting the right battles and choosing the right side.' Christine Bongers
ELIZABETH KASMER has been an exchange student, a donor attendant, a receptionist, a carpark attendant, security shredder and a primary school teacher. She has a BA in Humanities majoring in Philosophy, Literature and Studies in Western Traditions. She has always loved books, frequenting her local library as a child. She was enthralled by CS Lewis, embarrassed by Judy Blume, delighted in Roald Dahl, discovered the secret to 'Life, the Universe and Everything' and giggled along with Sue Townsend's dorky and adorable Adrian Mole aged 13 and ¾. She currently lives on the Sunshine Coast with her husband, three mini ninjas (cleverly disguised as boys), a dog and a snake. Becoming Aurora is her first novel.