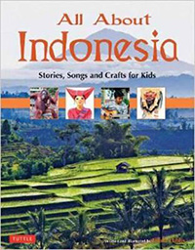 Subtitle: Stories, Songs and Crafts for Kids
By: Linda Hibbs
Published by: Tuttle Publishing
ISBN: 9780804840859


Description
Take a tour through one of the most diverse nations on earth!

Indonesia is an enormous island chain stretching from the Asian mainland all the way to Australia. Placed over a map of the United States, it would extend horizontally from California all the way to Bermuda.

These islands are home to the fourth largest population in the world (next after the United States), where hundreds of languages are spoken. It's a land of many different faiths and creeds, including the world's largest Muslim population, and many different peoples who now all call themselves Indonesians.

"All About Indonesia" introduces children to a place where people in blue jeans walk alongside those in traditional sarongs, where fast cars and oxcarts share the same roads, and where ancient village traditions still thrive in a world of cars and cellphones. This book invites children on a journey of adventure through a fascinating land of contrasts--where ancient temples and modern skyscrapers coexist. Found on the fringes of bustling cities are sparkling green rice paddies, tropical forests, smoking volcanoes and some of the most famous beaches found anywhere in the world.

This book tells readers about the daily lives of Indonesian children--their classroom activities, favourite sports, holidays, the foods they love to eat, and much more. Young readers get a sense of how in Indonesia's hundreds of islands and peoples all share a common history, while at the same time pointing out what makes each of them unique.

Kids get to try Indonesian crafts and recipes, and experience age-old folktales.

"All About Indonesia" even contains a brief introduction to the national language, Bahasa Indonesia, and opens the door to a land that readers will never forget.

Review
This title was included in our February 2014 Primary Non-Fiction Standing Order selection.